So! I don't even know where to begin. On Thursday night, no, let's start earlier than that. On
Wednesday
night, when
papered
,
riddled
,
waveless
and I were at the set, a PA told us they'd be filming on Seymour St on Friday night. On Thursday night our new friend Doug the PA said that was right and gave us the specific location, which was the Marble Arch Hotel. (And strip club, apparently.) So I came home to look up the address to post the info to
spn_bc
, and I found that it was on Richards, not Seymour. The two streets run parallel to each other. Is this important to my story? Well, not particularly.
So at about four I left to go meet Lucy downtown at five, because filming was supposed to start at six. We shopped a bit on Robson, and the met up with Liz (
papered
) and went up to Harbour Centre to Tim Hortons to have something to eat. Is my story getting exciting yet? No? Bear with me.
With tummies full of sandwiches and donuts (mmm sour cream glazed) we went over to Richards st to the Marble Arch. There were some trucks parked outside and we saw about one PA. This was odd because all the other times we'd been to set there had been PAs everywhere, and way more action happening. We could see that there were some people in the alley, so we decided to walk around the block to see if we could see anything from that side. So, of course this took us on to Seymour street, and that was certainly where the action was. Across the street there were lights going up and cameras being set up and TONS of people. We walked down the side of the street where everything was going on and quickly realised we couldn't stand there cause we would be in the way. So we crossed the street and stood at the entrance to the alley and could see right where they would be filming.
We hung out for a while as they set up, and spotted Kim Manners. A while later, a lady came over to us and said, "Looking for the stars? They're right over there in that alley!' They were in the alley on the other side of the street with people standing around them , but we could see Jared as he is so ridiculously tall, and we could recognise Jensen from the top of his head. (Is that weird? I say no.) Anyway, they started to film a scene where the boys come out of a bar called The Spider.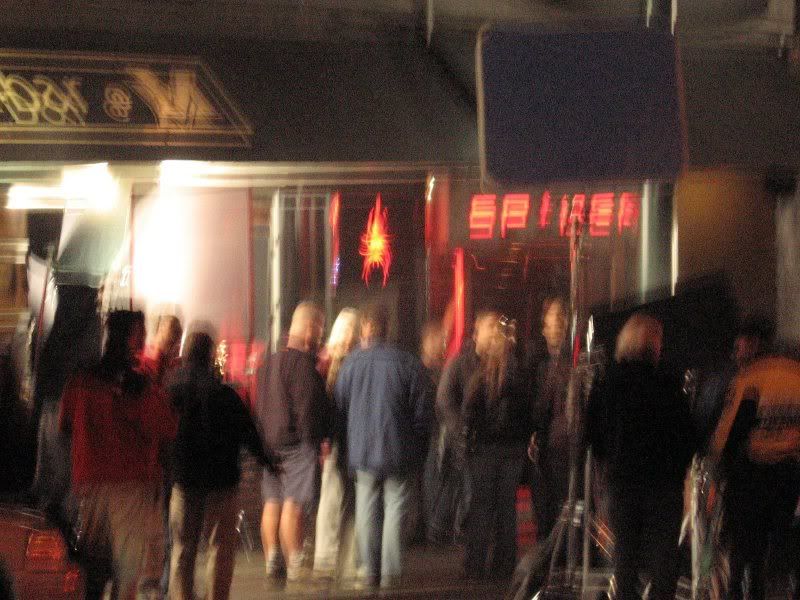 Um, yes, I'm aware it's very blurry. It was way too dark to take good pictures. They didn't do that many takes, maybe three or four, but I guess that was enough, cause then the boys were off, and a PA moved us back from the alley cause where we were standing would be in frame for the next shot. I think they filmed something with the entrance to the alleyway without the boys.
Theeen Jared and Jensen came back. Did they enter they alley right in front of us? I honestly don't remember. They may have come around the other side. We were allowed to crowd around the entrance to they alley to watch the filming. At first they were doing stuff around the corner where we couldn't really see them. Apparently they were doing a fight scene or something, I'm not sure. Then they made us stay on one side of the alley cause the other side was in frame because Jared was right in front of us!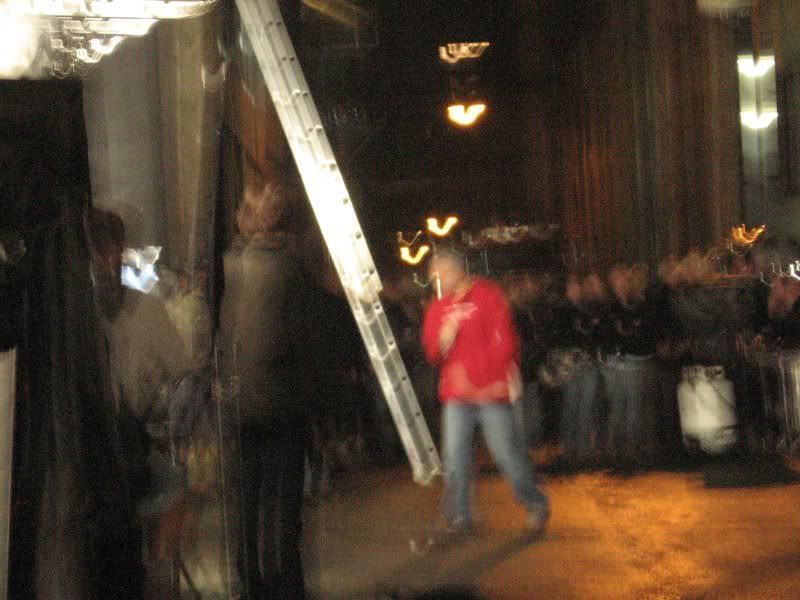 Yes, that big blurry blob is Jared.
This involved Jared...running out? It was quick and again, they only did a few takes.
Then they did something with a girl running towards us...there were a few different things they did here, some that we could see well, and lots that we couldn't see at all. One that I remember involved Sam and Dean running away down they alley into the fog/smoke that they kept blowing over everything. With the lighting it looked really, really cool.
Some other interesting things that happened while we stood at the entrance to that alley:


They sprayed they streets down with water ("We're getting sprayed by Supernatural water!")


We made friends with James the PA


Lots of drunk people stopped by wanting to know what movie was being filmed. ("It's a tv show called Supernatural." "I've never heard of it." *sigh*)


A girl wandered by with her friends and asked what was being filmed. She was from Brazil and it turned out she was a huge SPN fan and had no idea that they were going to be filming here tonight, so she got really excited and sent her friends away and stayed to watch with us. She and her friends got a little demanding though, asking James the PA to ask the boys to come over and stuff, but she was nice. More on her later.


Made fangirl friends with three women who had come up from Colorado, New York and Texas for this.


After a while they moved, and the three women we had made friends with (I never learned their names) took us with them to...where their car was parked? Apparently they had had a tip from someone that the parkade overlooked the alley where they were filming next. That was...awesome. We were just a foot or two above their heads. When we first got there, the boys weren't around, but we were right above the heads of Kim Manners and some other people. They spotted us and talked to us for a bit. They asked what our favourite episode was and one of the women we were with said Heart and talked about the amazingness of the very end.
Here's a picture of the camera, some crew people and Kim Manners.
They set up a shot, rehersing it with some crew people, and then Jared and Jensen came back and they did it with them.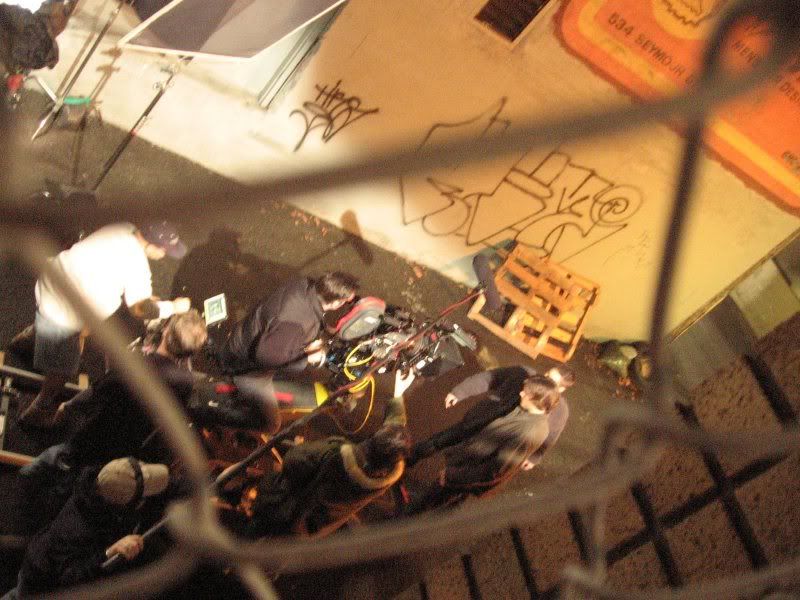 This shot was just them running around the corner and then stopping in front of the camera.
After that shot was done, (again, only a few takes) Jensen unscrewed one of the screens and started walking away with it. At first I thought, 'Oh, isn't he nice to help with taking stuff down!' but then a crew guy started chasing after him and Jensen laughed and gave it back. Ah haha, it's the stuff like that that makes watching filming so awesome.
Then they set up the next shot, and the boys didn't run away for another 'ten minute' break, but hung around.
They had some stuff explained to them by this guy,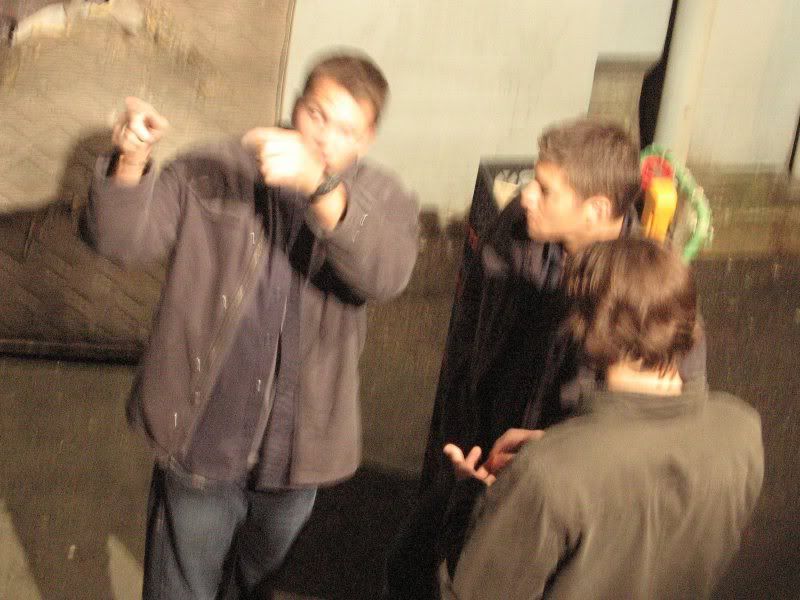 and then by Kim.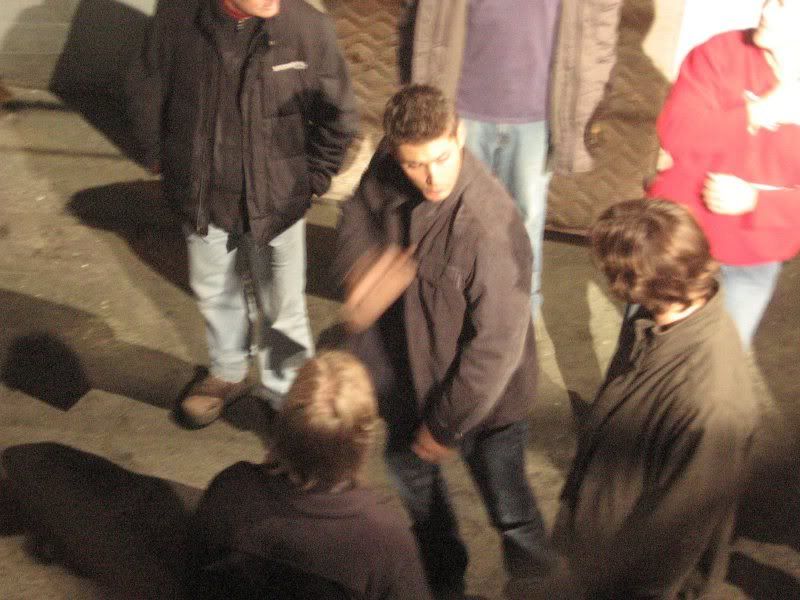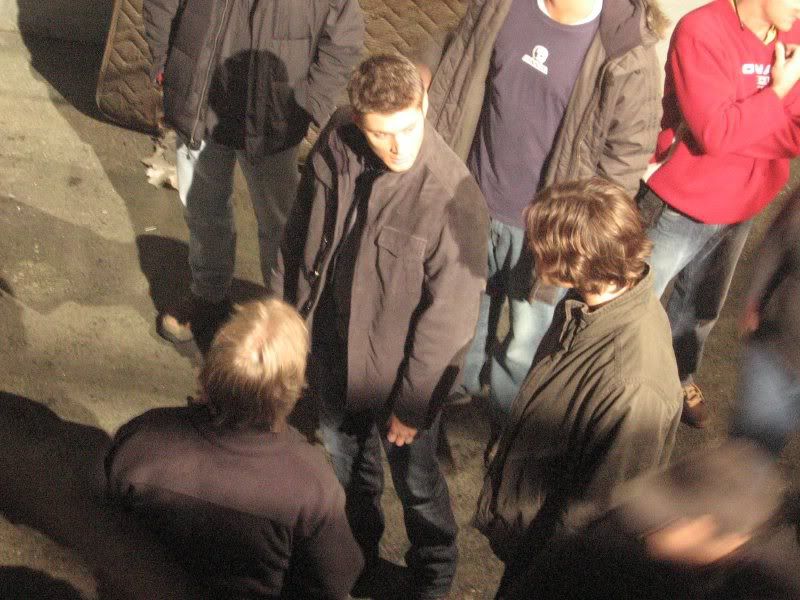 The next scene seemed to involve some sort of stunt because they were setting up some mats and stuff.
Right below us was this guy: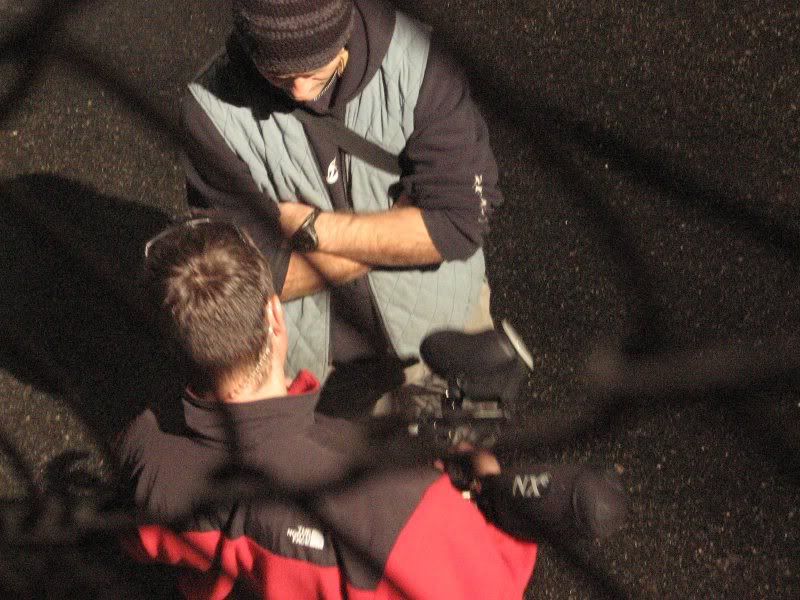 and we were trying to figure out what the thing he was holding was. We decided it was some kind of sound thing.
Here are some pictures of the set up of the stunt: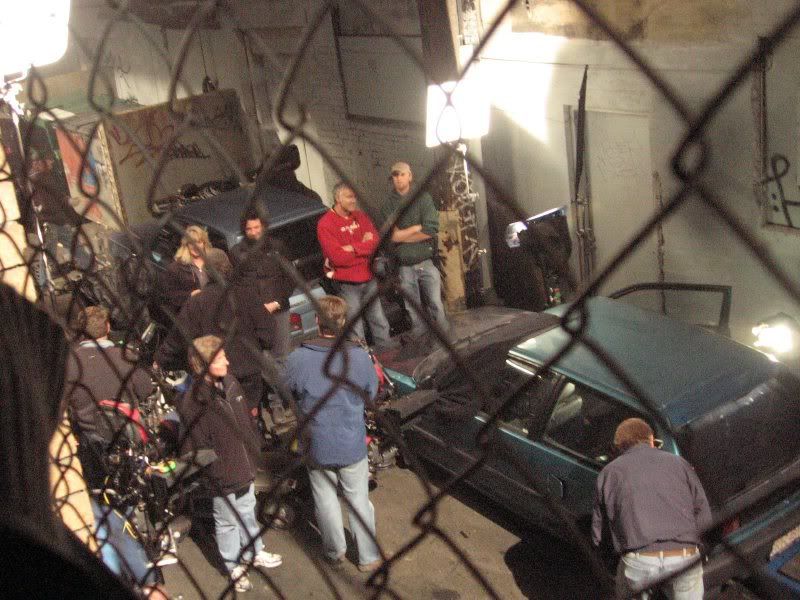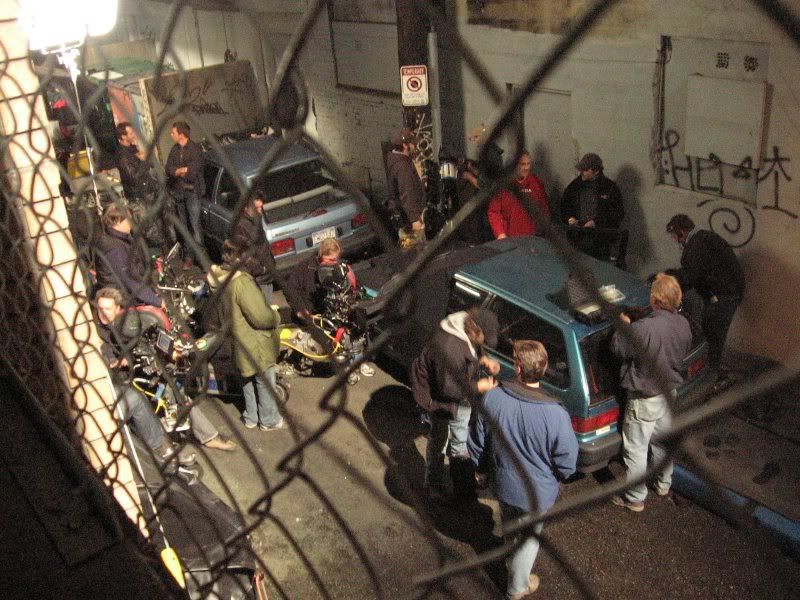 I took a few videos. Here's the rehearsal of the boys jumping onto the mat.
Are the videos spoilery? Only if you consider Sam and Dean getting shot at in an episode a spoiler...
Then they made us move up the parkade a level because they were going to blow the windows out of the car, and they didn't want us to get hurt by flying glass. (The camera people were covered up by blankets.) We didn't have as good a view, but we could still see pretty well. They made us move down to the end where we really couldn't see when they did the actual blowing out of the window. Here are a few pictures from that end: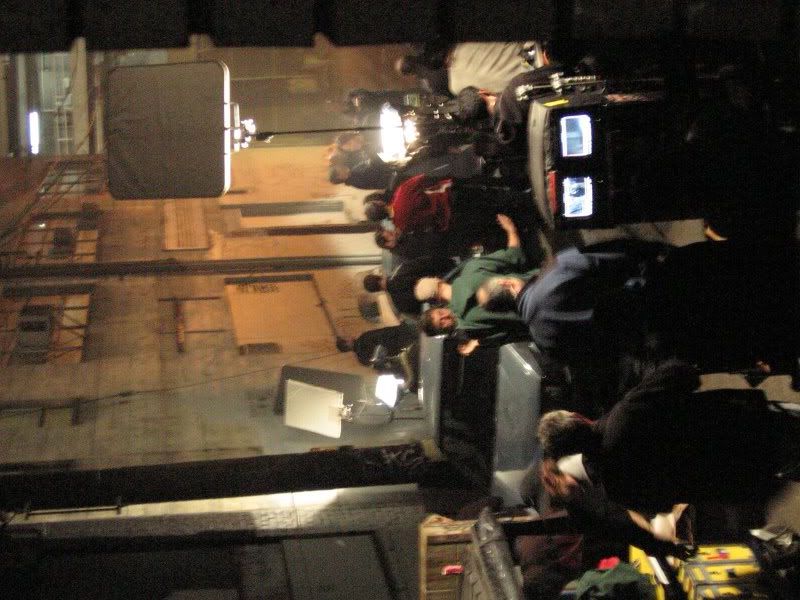 The boys are back there in the light.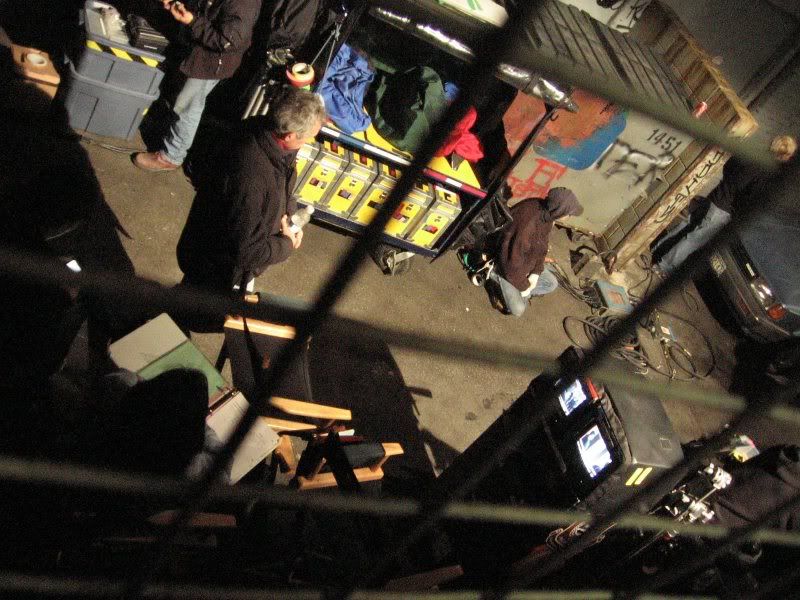 The monitors: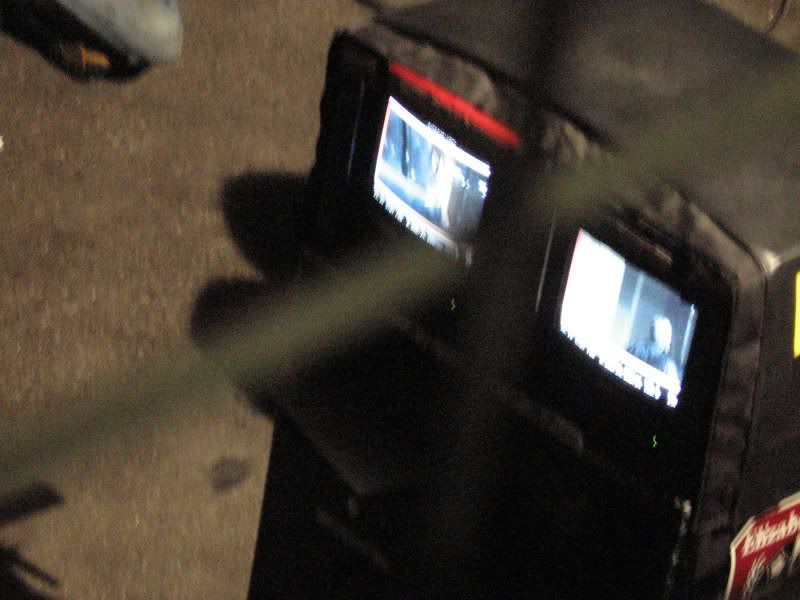 Lucy took a picture of me up there:
Then they blew the window out, but we couldn't see. Here's what it looked like after:
I think they're looking at it here:
This is the next shot they filmed, with Sam and Dean crouched down behind the car: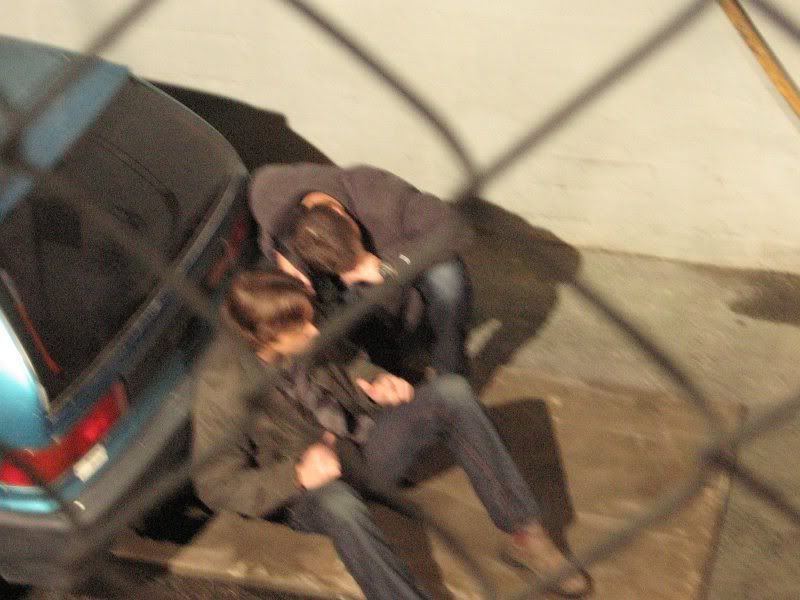 While they set up the next shot...Jared ate. Surprise, surprise.
And Jensen leaned sexily on a car:
Here's Jared standing around: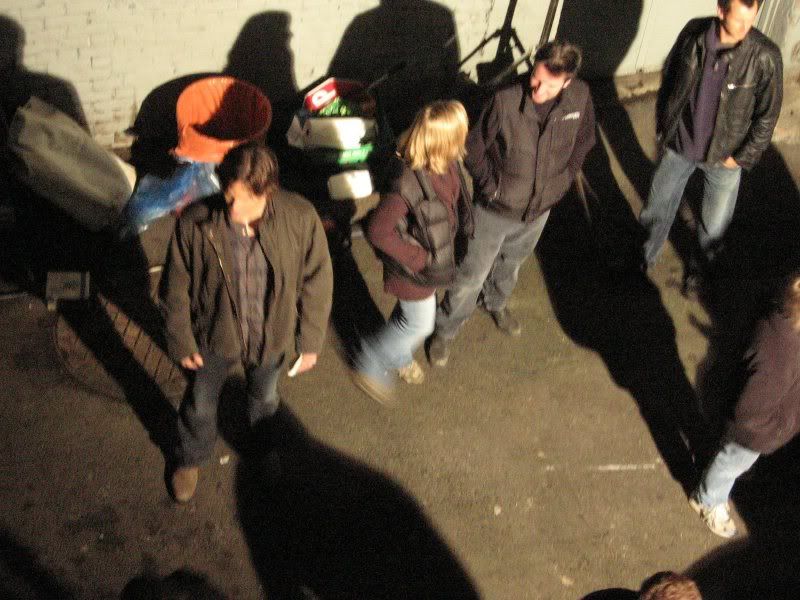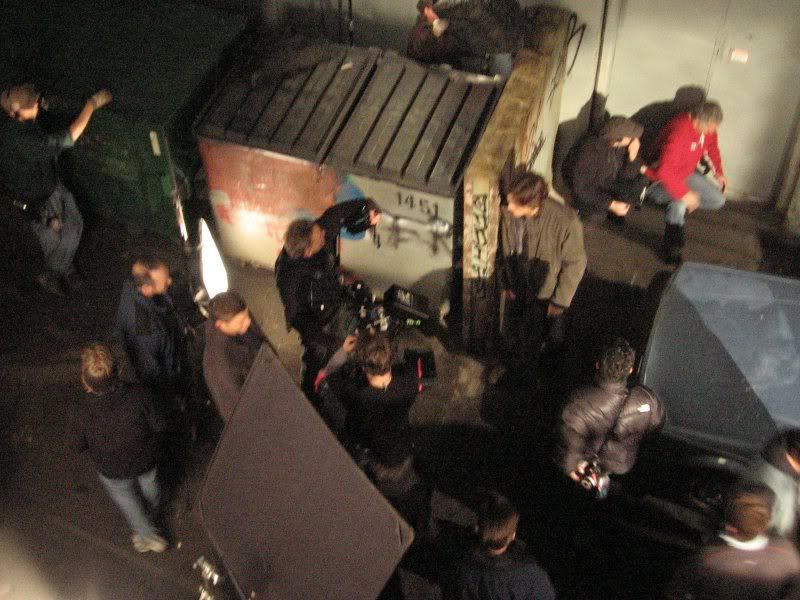 Then they did a bit where Sam and Dean run behind some cars and glass (from the windows, I guess) comes at them. In this take, Kim cut before the dialogue because apparently the fake glass showering them made it look like they were getting married! When you hear someone singing the wedding march, out of my frame was Kim and a few other people walking up wedding style to them humming. It was pretty hilarious. It's too bad I cut it off where I did because right after that Jared started humming the wedding march and that was awesome.
This time they get to the dialogue:
They're pretty happy at the end there cause they're done and it was only the second, I think, take.
I'm not sure when this one was from, it might have been before the glass? Or maybe after they did the glass part we went back down to the lower level. Anyway, at one point when we were on the lower level, they made us go up one. We didn't really know why, but then we watched Jensen rehearse a stunt in which he runs on top of a car, onto a big garbage bin thing, and into the window
right where we were standing
. So that was why we couldn't be there. At one point Jensen was saying how if he got enough momentum going he could...I don't know, half climb up the wall to get into the window, and he demonstrated. When he did that some crew girl said, 'Peter Parker, is that you?' ...ok, so it doesn't seem quite so funny written down like that, but I assure you it was. Then someone, I'm not sure who...some crew person of some sort, said, 'You know how I would do it? I would do it like this:' and then did this thing where he tried to get through the window a whole bunch of times but couldn't quite make the jump. As he did, Jared was shouting, 'BANG, BANG, BANG! BANGBANGBANGBANG! You're dead, like, ten times!'
Here is a not very good video of Jensen doing that stunt:
Around this time, Lucy was getting tired, (though major props to her for staying so long when she has only seen a few episodes!) so I walked her to the bus stop and waited with her till she got on the bus and then hurried back. When I got into the parkade, the people that I was with were heading for the stairwell, and I had no idea what was going on so I just followed them. I assumed they were going back to the lower level or something, but the went out a side door into the alley. So were standing there in the alley and then JARED COME AROUND THE CORNER. Wow. He was so so nice. The three women that had come from the states had presents for him. (And his dogs and Sandy!) It was awesome. Because they were *giving* stuff, I felt too bad to ask for him to sign my dvds, so I didn't. OH WELL.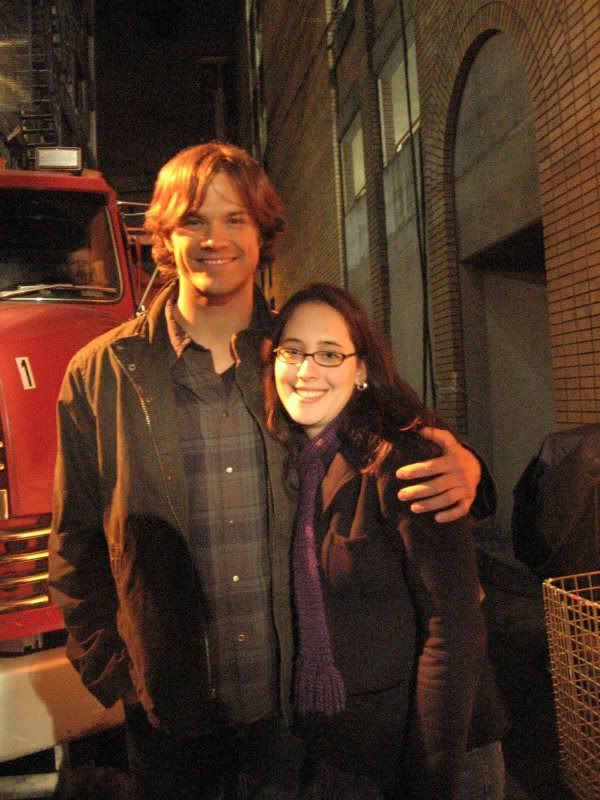 Squee!!!
He was so nice and so friendly and SO TALL. Haha. I wish I could remember some of the things he said. He didn't stay long, cause he was finished for the day so we didn't want to keep him. So we went back upstairs and watched Jensen film the jumping through the window thing, and then we raced back down the stairs to meet him. The PA that was standing there wasn't quite as nice as most of the other Pas we'd talked to. But I guess it was the end of the night and she was tired. Then Jensen came around the corner! He was so nice and introduced himself (!!) to us and shook our hands and asked our names. I love how he repeated my name after I said it.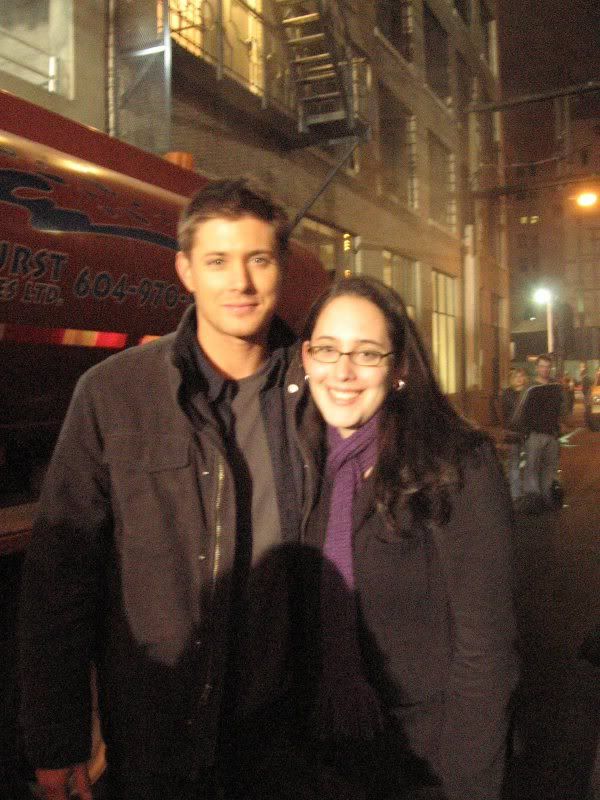 He was pretty happy to be finished work before midnight on a Friday night so we let him go and then left. Pretty exciting!!!
..then I had to wait for half an hour for a bus, so I texted everyone who I thought might be interested.
I just. I don't even know what to say about it all. Watching them film is so so much fun and I can't wait to go again, even if I don't get to meet the boys again.
Oh, here is a picture of the signed photo
we were given Wednesday night
: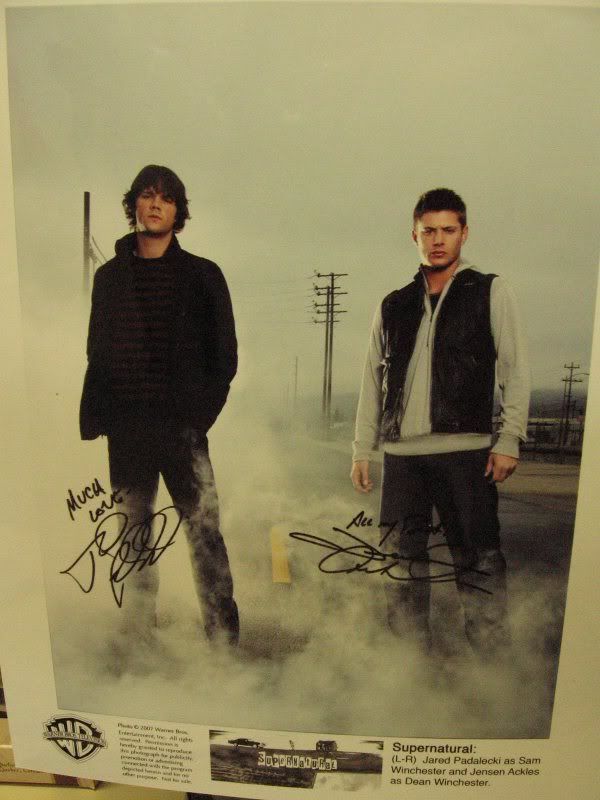 And a close up of the signatures: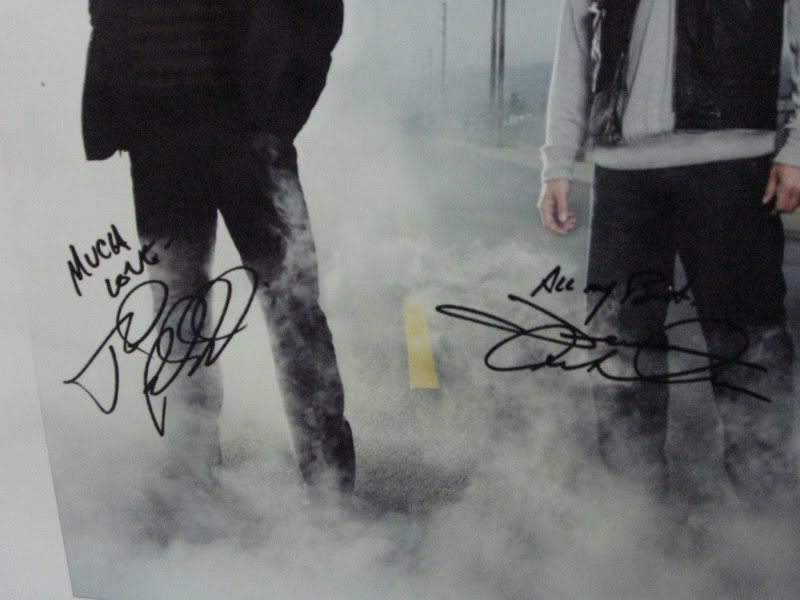 When we first got them in the dark I thought Jensen's said 'All my food' but it doesn't, it says, "All my best'. Just, you know, in case you were wondering.
ETA: Ok, the videos aren't showing up. *tear* Is it because I don't have a paid account? I thought I could still emebed videos, but maybe not...I'm working on seeing if I cna fix it, and in the meantime I'll put links in...
Apparently they are showing up and I just can't see them?